PA Schools in Texas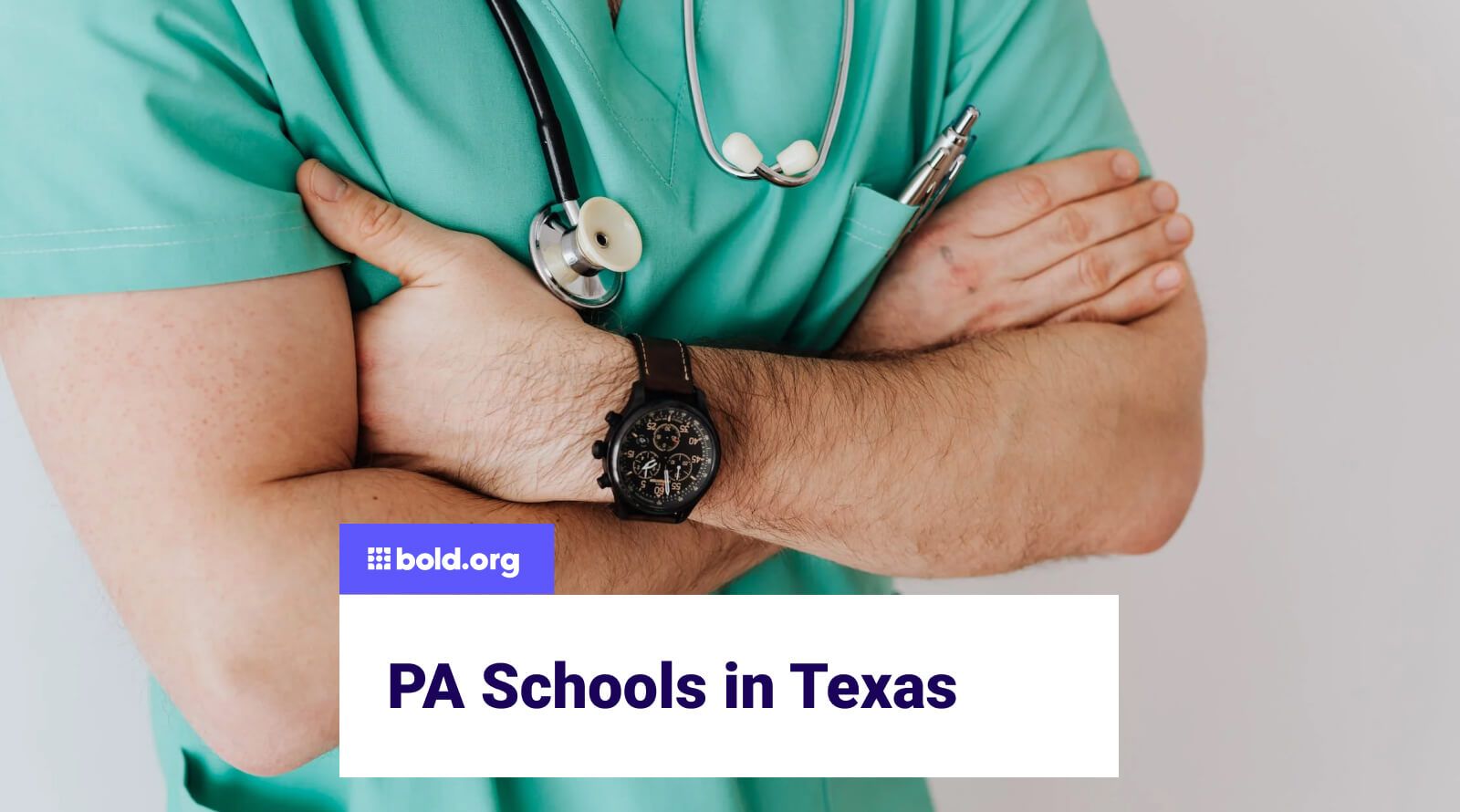 Top scholarships with upcoming deadlines
Physician assistants, or PAs, are becoming increasingly important as primary care providers working under a supervising physician in healthcare settings. If you're considering pursuing this rewarding career path, some of the most well-known and affordable PA schools in the country are located in Texas.
Texas is home to many PA schools that offer comprehensive programs to prepare students for a successful career in healthcare. Attending a reputable PA school in Texas will enable you to gain the necessary pre-clinical knowledge and clinical experiences to provide high-quality care to your future patients.
In particular, Texas's location at the US-Mexico border and diverse population make it an excellent place for aspiring healthcare professionals to gain clinical experience. Texas is also home to the infamous Texas Medical Center, a 2.1-square-mile district that is home to over 60 medical institutions, as well as numerous excellent research centers in areas like geriatric medicine, cancer treatment, and military health.
Although PA school is less expensive than medical school, the cost of tuition and educational expenses is often a major deterrent for prospective physician assistants. Luckily, scholarships for PA students can help cover the cost of attending PA school.
Scholarships are available from national and state-specific physician assistant organizations, as well as individual donors and practicing physician assistants who aspire to help those looking to enter the profession.
To find scholarships for PA school, create a free Bold.org profile and browse hundreds of scholarships with upcoming deadlines right here. And don't forget to check out more blog posts like this one to learn more about financial aid and student loans.
The Best PA Schools in Texas
Baylor College of Medicine - Houston, TX
Baylor College of Medicine's PA Program is consistently ranked as one of the top PA schools in the United States. Most recently, U.S. News and World Report deemed Baylor the best PA school in Texas and number 3 in the country.
Baylor Students have access to clinical training experiences at the infamous Texas Medical Center, the world's largest medical complex, guaranteeing them a wide array of clinical practice opportunities.
PA students at Baylor can engage in interdisciplinary training with students and faculty from Baylor College of Medicine's School of Medicine and other programs within the School of Health Progressions, including nursing, social work, and pharmacy students. The curriculum at Baylor similarly prioritizes using the diverse resources available to Baylor students, including the School of Medicine, graduate programs at Baylor, and the National School of Tropical Medicine.
Students at Baylor must also fulfill service learning requirements through which PA students provide care to medically underserved communities in Houston. Through two cultural competency courses, students learn how physician assistants can make a difference through community service.
You can learn more about Baylor College of Medicine, including the cost of attendance, through this breakdown.
Get Matched to Thousands of Scholarships
Create your Bold.org profile to access thousands of exclusive scholarships, available only on Bold.org.
Create Free Profile
University of Texas Southwestern Medical Center - Dallas, TX
The University of Texas Southwestern Medical Center provides graduate PA students with a 30-month professional curriculum composed of four semesters of lectures, bedside demonstrations in medical and behavioral sciences, and four semesters of clinical rotations.
Prospective physician assistants studying at UT Southwestern undergo clinical training in multifarious outpatient facilities throughout North Texas and teaching hospitals affiliated with UT Southwestern, including Parkland Memorial Hospital and the William P. Clements Jr. University Hospital.
Students also study diverse electives like pharmacology, immunology, biochemistry, and Spanish language skills, preparing them to serve the populations that call Texas home.
The University of Texas Southwestern is a leader in research in the biomedical sciences, with faculty having received six Nobel Prizes since 1985.
University of North Texas Health Science Center - Fort Worth, TX
The mission of the University of North Texas Health Science Center's Department of Physician Assistant Studies is to "create solutions for a healthier community" with an emphasis on "primary care medicine and meeting the healthcare needs of underserved populations."
To prepare students to be excellent primary care providers and community-oriented physician assistants, the University of North Texas Health Science Center equips PA students with a superb Master's curriculum and Experiential Learning opportunities.
Students who attend the University of North Texas Health Science Center PA program are highly prepared to pass the Physician Assistant National Certifying Exam or PANCE, which all PA students must take to become licensed physician assistants.
The program also prepares students to practice medicine with extensive Experiential Learning opportunities. Students are expected to graduate with various hard and soft skills for being a practicing healthcare professional, including clinical skills, clinical reasoning, technical skills, medical knowledge, and interpersonal skills.
University of Texas Health Science Center - San Antonio, TX
The Department of Physician Assistant Studies at the University of Texas Health Science Center trains physician assistants from the perspective that PAs are integral to solving the United States' healthcare challenges.
Studying physician assistants at the University of Texas Health Science Center learn through a combination of classes, labs, simulations, and clinical rotations. UT Health Science Center graduates boast an impressive five-year, first-time pass rate on the Physician Assistant National Certifying Exam.
Students at the University of Texas Health Center also have the opportunity to participate in numerous community service opportunities.
For instance, the Health Science Center recently hosted a free community health fair that offered screening, testing, and healthy living information to residents of the San Antonio Area. Students from the PA school had an opportunity to provide services like anemia, cholesterol, glucose, and HIV testing to medically underserved communities while gaining valuable clinical experiences.
Texas Tech University Health Sciences Center - Lubbok, TX
Students pursuing physician assistant studies at Texas Tech University Health Sciences Center have the unique opportunity to form long-term relationships with communities in West Texas. With a focus on primary care and family medicine, the TTUHSC Master of Physician Assistant Studies Program seeks to make high-quality healthcare more accessible in their neighborhood of West Texas.
The curriculum at Texas Tech University prepares students for real-world practice with a combination of interactive lectures, labs, simulations, and case studies. Students gain necessary pre-clinical knowledge while practicing active learning skills to continue learning and growing on the job once they graduate.
Students at Texas Tech University undergo clinical rotations in various specialties, including family medicine, internal medicine, prenatal and gynecology, pediatrics, emergency medicine, psychiatry, and surgery, preparing them to work in numerous fields. Prospective PAs also gain experience working with diverse medical populations by undergoing clinical rotations in rural areas of West Texas.
University of Texas Medical Branch - Galveston, Texas
The University of Texas Medical Branch was the first medical school to be established in Texas and one of the first PA programs in the lone star state.
Students at the UTMB PA program learn anatomy through a full cadaver lab that teaches students about human body structures through hands-on experience. Furthermore, UTMB is an institution committed to community outreach within Galveston. Students can partner with community organizations to provide necessary medical services to medically underserved communities in neighboring towns.
One unique aspect of physician assistant studies at UTMB is the Faculty Coached Learning Teams. Every student is assigned to a faculty member and meets with them weekly in a small group to receive support around their career paths and navigating graduate school, helping maintain a sense of community and connection within a large-school environment.
Frequently Asked Questions
What is the Difference Between a Physician Assistant and a Doctor?
While a physician assistant isn't technically a doctor, physician assistants are qualified to perform many of the same functions as traditional M.D.s, including diagnosing, treating, and examining patients.
Doctors earn a medical degree or M.D. by attending four-year medical school and then gain additional experience through a four-year residency. Physician assistants become qualified healthcare professionals by earning a Masters in Physician Assistant Studies from an accredited PA program. PA school is generally two to three years long and involves a combination of prerequisite courses and clinical training rotations.
In practice, physician assistants can provide 80-90% of the services typically provided by doctors. However, unlike an M.D., a physician assistant must work under the supervision of a doctor and cannot practice alone. While the average M.D. salary is generally higher, physician assistants make an average of $121,530 and generally maintain a more consistent, 9-5 work schedule.
How Much Does PA School Cost?
PA school can cost anywhere between $30,000 to over $120,000, depending on the type of program. In general, in-state physician assistant programs in your state of residence will be the most affordable PA programs. Graduate PA programs within private institutions will be the most expensive place to earn your physician assistant degree.
What is the Best PA Program in Texas?
There isn't one physician assistant program single-handedly the best PA program in all of Texas! However, the best PA program for you to attend will depend on your personal goals for graduate school, your intended career trajectory, and your budget.
Think about the area of medicine that you want to practice in, and look for a PA program that will prepare you for that field through their preclinical coursework and clinical training. Some PA schools offer unique clinical experiences through partnerships with teaching hospitals and access to large medical care centers, where you can gain exposure to different areas of medicine and emerging medical research.
Suppose cost is a concern for you while you're considering PA school. In that case, scholarships can help cover the cost of tuition and other educational expenses and reduce the financial burden of higher education. Access  hundreds of scholarships for graduate students here on Bold.org, and read this blog post to learn more about scholarships for PA students.