Dental Hygienist Schools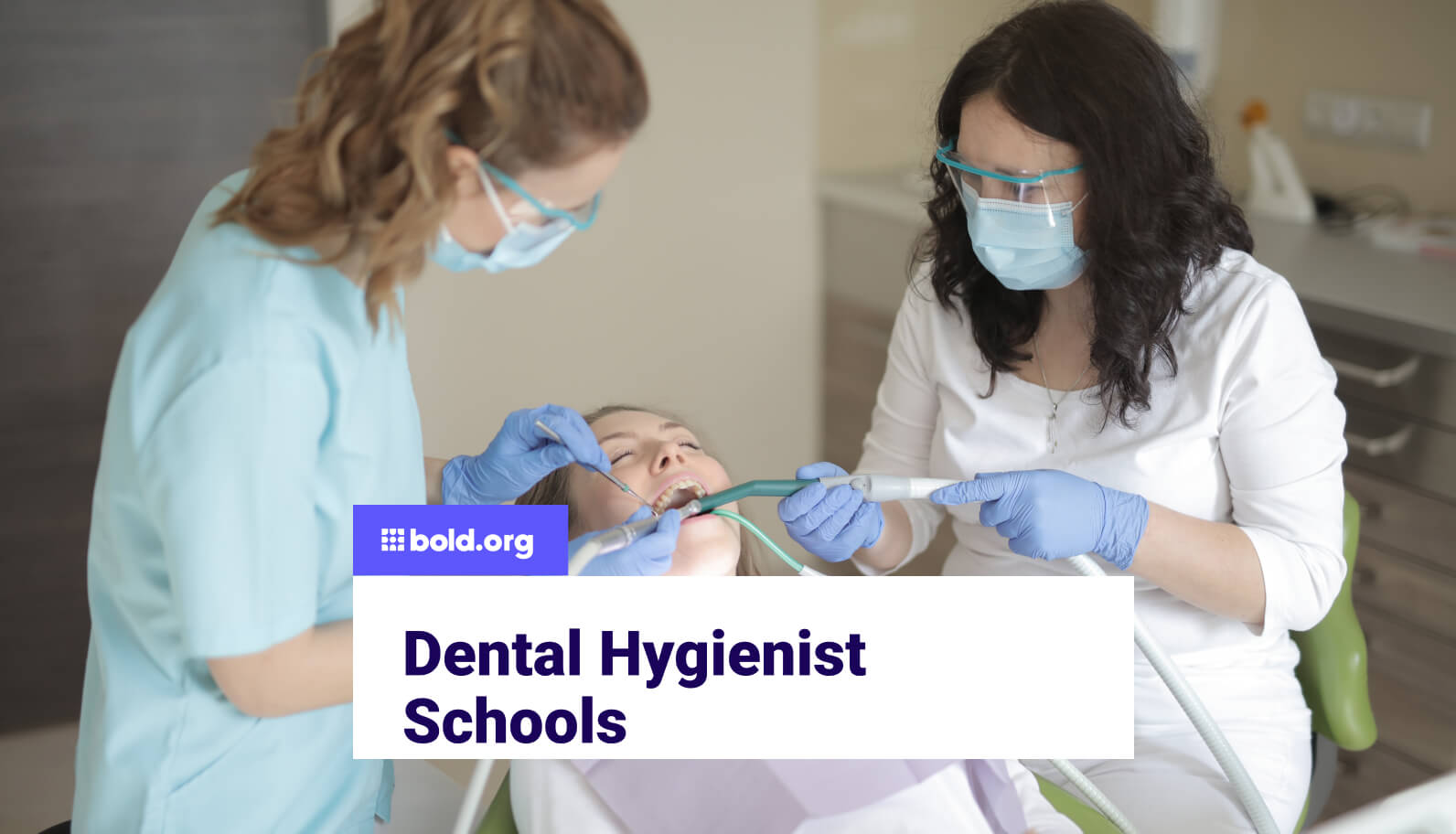 Top scholarships with upcoming deadlines
Dental hygienists are licensed oral health professionals who work alongside dentists to provide preventative and therapeutic care to patients. If you're passionate about oral health and aspire to work in the dental industry, becoming a dental hygienist might be your perfect career path.
Employment opportunities for dental hygienists are projected to grow by 6% between 2019 and 2029, faster than the average of all occupations. The demand for dental hygienists who work in clinical practice alongside dentists will increase as the population grows older. New research continues to solidify the relationship between good oral health and overall health.
Get Matched to Thousands of Scholarships
Create your Bold.org profile to access thousands of exclusive scholarships, available only on Bold.org.
Create Free Profile
The first step towards becoming a licensed dental hygienist is attending dental hygienist school at an accredited program. These programs typically take two to three years to complete, including classroom coursework and hands-on clinical experience.
During your studies at dental hygienist school, you'll learn about dental anatomy, pharmacology, radiology, and patient care. You'll also gain more knowledge and practical experience by working with patients under the supervision of a licensed dentist or dental hygienist.
Becoming a dental hygienist is a rewarding career path that offers job security, competitive pay, and the opportunity to positively impact patients' lives. If the cost of dental hygienist programs is a concern, scholarships for dental hygienist schools can help you pay for a bachelor's degree or associate degree in dental hygiene. Scholarships available on Bold.org for dental hygiene students allow you to pay for tuition and educational expenses while reducing the student debt you need to take on.
In this article, I've organized all of the information you need about dental hygienist schools, including the best schools to earn a dental hygienist degree and scholarships for dental hygiene students.
You can learn more about rewarding career paths and paying for higher education by reading more blog posts like this one on Bold.org's scholarship blog. And don't forget to create a free Bold.org profile to browse hundreds of scholarships for college.
What Do Dental Hygienists Do?
A dental hygienist is a key part of the oral healthcare team that works with dentists to provide therapeutic and preventative oral care and educate patients on maintaining good oral health. Dental hygienists often provide services such as teeth cleaning, dental X-rays, evaluating for gum disease, and examining patients' teeth and gums. They may record the presence of diseases or cavities they discuss with their partner dentist or perform routine teeth cleanings for regular patients.
Dental hygienists are trained to utilize various specialized power and hand instruments necessary for oral examinations and teeth cleanings. They also operate X-ray machines to take pictures of patients' teeth and gums and administer local anesthesia for oral procedures. All in all, dental hygienists are invaluable members of a dental office's team and essential primary care providers in dentistry.
How Do I Become a Dental Hygienist?
Becoming a dental hygienist requires completing a dental hygiene program accredited by the Commission on Dental Accreditation (CODA). These dental hygiene programs usually take two to three years to complete and involve a combination of pre-clinical science coursework and clinical training.
Prospective dental hygiene students can earn a dental hygiene degree from a community college, technical college, dental school, or traditional university. Schools typically offer one or both of the following degrees: a bachelor's of science in dental hygiene or an associate's degree in dental hygiene.
Attending dental hygienist school offers numerous benefits for those passionate about oral health. Firstly, a dental hygiene degree provides job security, as the demand for dental hygienists is expected to grow by 6%, according to the Bureau of Labor Statistics.
Dental hygienists also enjoy a competitive salary, with an average annual wage of around $80,000. Investing in your education by attending a dental hygiene program can result in long-term financial security for prospective dental hygiene students.
What Career Paths Are Available for Dental Hygiene Students?
Graduating from a dental hygienist school opens up various job opportunities in various settings. Dental hygienists can work in private practice in dental offices, hospitals, public health clinics, and even schools.
Some dental hygienists choose to specialize in their profession or a specific area such as periodontics, orthodontics, or pediatric dentistry. Additionally, dental hygienists can advance their careers by pursuing a master's in dental hygiene or becoming educators, researchers, and administrators in the dental industry.
As a result, becoming a dental hygienist does not necessarily mean that you will be limited to a singular career path in clinical practice. Dental hygienists who graduate from an accredited dental hygiene program can pursue multifarious opportunities in public health, education, and research.
The Best Dental Hygiene Programs in the United States
Here are just a few of the many excellent, accredited dental hygiene schools that will prepare you for your career as a dental hygienist. The schools I've highlighted here prioritize providing graduates with a comprehensive pre-clinical education and exposure to clinical work by working with real-life patients. Collaboration between dental hygiene students, dental students, and faculty from across the dental schools is also a core part of their curriculum.
New York University
The NYU College of Dentistry Dental Hygiene Program offers prospective dental hygienists the opportunity earn a Bachelor of Science in Dental Hygiene or an Associate in Applied Science in Dental Hygiene in one of the most diverse cities in the world.
Students have the unique opportunity to work alongside dental students and faculty members in integrated clinical settings while providing care to diverse patient populations. Additionally, dental hygiene students will rotate in specialty areas like orthodontics, periodontics, implant dentistry, and pediatric dentistry.
The Associate in Applied Science degree can be completed in as little as 17 months through NYU's fast-track program. Students who want to spend more time preparing for their careers after graduation can finish the AAS in three years. The Bachelor of Science degree can only be completed in three years.
University of Michigan Ann Arbor
The University of Michigan Ann Arbor is consistently ranked as one of the top dental schools in the United States, and its dental hygiene program is also very competitive.
Students enrolled in U Mich's Dental Hygiene Program graduate after two years or six consecutive semesters, during which they participate in in-class learning, labs, and clinical rotations. Dental hygiene students will take courses taught by both dental hygiene faculty and dental school faculty, and interprofessional courses with both dental hygiene students and dental students allow prospective dental hygienists to grow their professional network.
Dentistry research is also a major area of focus at the University of Michigan's Dental Hygiene Program. During their two years of study, dental hygiene students will be able to be involved with social science and basic science research, as well as a variety of undergraduate research labs.
University of Washington
The Shoreline Community College Dental Hygiene Program at the University of Washington School of Dentistry offers an undergraduate program in dental hygiene. Students at Shoreline have the opportunity to gain clinical experience by working with patients at the Magnuson Health Sciences Center at the University of Washington alongside registered dental hygienists and dentists.
UW also houses a master's program in dental hygiene that helps prepare dental hygienists to become educators and leaders in the field. Masters students will receive training in clinical sciences, learn to care for specialized patients, and participate in graduate-level research.
Texas A&M
The Caruth School of Dental Hygiene at Texas A&M University is another highly ranked, accredited dental hygiene program that offers undergraduate degrees to prospective dental hygienists. Students wanting to pursue a specialization or work in education can also earn a master's degree in dental hygiene at Texas A&M.
One-third of all dental professionals in Texas are estimated to have graduated from Texas A&M, so dental hygiene students who graduate from the university will be part of a robust alumni network--especially those that choose to practice in the lone star state. The College of Dentistry also houses a Dental Simulation Clinic were pre-clinical students can practice on mannequins and simulation tools before working with actual patients in clinical rotations.
University of North Carolina Chapel Hill
The Addams School of Dentistry at UNC Chapel Hill houses a program in dental hygiene, as well as a Doctor of Dental Surgery (DDS) program and graduate studies in dentistry. As a result, students can experience a well-rounded array of clinical training opportunities, including clinical exposure to specialized areas like geriatric dentistry, pediatric dentistry, and periodontics.
Students also have the opportunity to research at UNC alongside practicing faculty members and other students from the School of Dentistry.
Frequently Asked Questions
How Much Does Dental Hygiene School Cost?
The cost of a dental hygiene program depends on the type of degree that the program offers and the length of the program. According to the American Dental Hygienists' Association, an associate degree in dental hygiene is estimated to cost around $22,000 per year. It is the most affordable option for becoming a licensed dental hygienist.
A bachelor's degree in dental hygiene will likely cost around $30,000 per year, though tuition costs can skyrocket at private institutions that don't offer in-state tuition. To avoid taking on massive student loan debt, consider applying for dental school scholarships for college students and graduate students on Bold.org.
How Do I Maximize My Chances of Getting Into a Dental Hygienist School?
Applying to dental hygiene school is much like applying to a four-year university or graduate program, but there are a few ways to stand out among the applicant pool.
Many dental hygiene programs, especially graduate programs, are looking for students with a demonstrated interest in the field of dentistry. Demonstrated interest can take the form of volunteering experience, clinical work experience, and/or a strong personal statement detailing your motivation to pursue a career as a dental hygienist.
If you're applying to an associate program or undergraduate program, previous clinical experience or volunteer work is certainly still a plus, but likely not required. You can make yourself stand out as an applicant to an associate program in dental hygiene or a bachelor's program by writing a stellar personal statement and being prepared for any interviews that may be involved in the application process. Maintaining a competitive high school GPA and excelling in your STEM classes can also help indicate that you are prepared for the rigorous coursework of dental hygiene school.
Now that you understand the role of a dental hygienist and how you can prepare for a clinical career through dental hygiene school, you're ready to start applying to dental hygiene school! Don't forget to create a free Bold.org profile to access hundreds of available scholarships to help you pay for dental hygiene school and check out more blog posts to learn about financing higher education.